Pacific Northwest Gathering of Dark Magi 2017

---
The 2017 Pacific Northwest Gathering of Dark Magi

May 18 through 21, 2017

At The Happy House

Seattle, WA
---
---
JOIN: Join our emailing list by contacting me. You will know how.
TO REGISTER: Use the paypal button, below. Please do so before April 30.
COST: $250 (or less) if staying in the Happy House, $50 if staying locally.
TIMING: We can begin arriving at Happy House after 4pm on Thursday (18 May) and disperse on Monday (22 May) before noon.
The 2017 Pacific Northwest Gathering of Dark Magi will be a time to share knowledge, experiences, an amazing camaraderie, and generally revel in all aspects of performing storytelling-based bizarre magic. The meeting will be informal and include many small break-out peer-to-peer groups covering a range of topics of interest to the bizarrist. These sessions will be peer led and everyone is expected to contribute – no formal lectures or performances, just peer-to-peer sharing. This allows us to concentrate on supporting each other, brainstorming, and learning.
Our first meeting of the Pacific Northwest Gathering of Dark Magi was in January of 2015, and it became clear that we wanted the event occur annually. Here is our howl to that moon for 2016: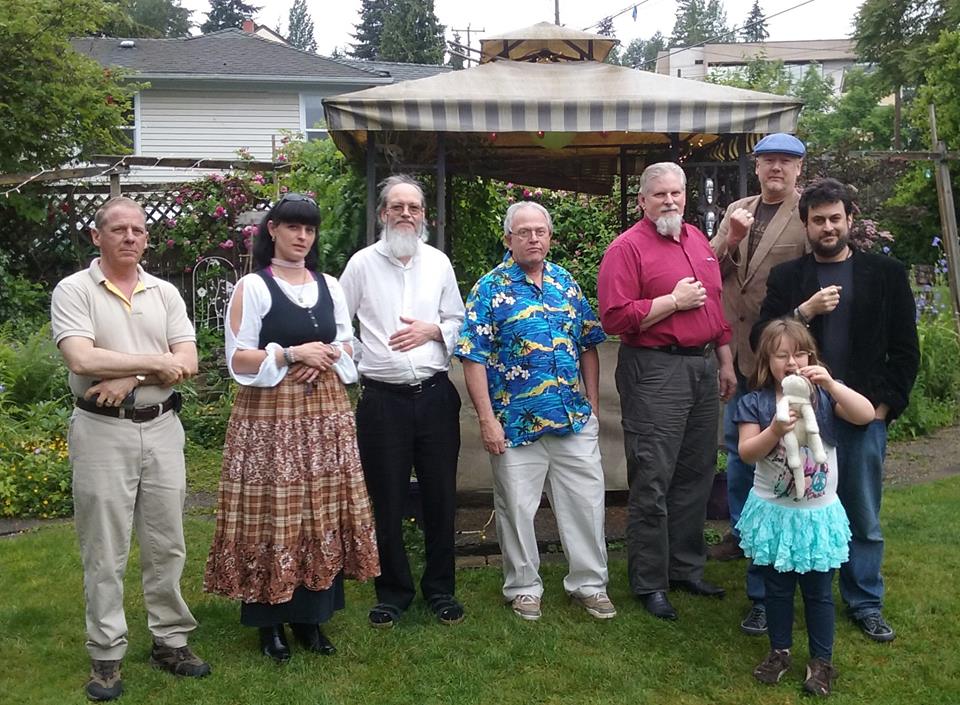 This meeting is not a money-making venture and we are trying to keep costs as low as possible. There are no registration fees, you pay your travel, food, and lodging out side the Happy House - we will try to keep the latter two as low as possible.

Happy House is a rental house in North Seattle, just off Interstate 5, and 22 miles (35 minutes) from SeaTac International Airport. The Happy House in the heart of Seattle's Meadowbrook neighbourhood.

The maximum cost for the entire weekend, excepting meals, will be $250 for those staying in the house. Spouses (etc.) may attend at no additional cost. Those who attend, but do not stay in the house, are asked to contribute $50, however no one will be turned away due to finances.

The house can accommodate 4 people without resorting to couches or sleeping bags (there are 4 queen beds in separate rooms).

The house has a full kitchen. I will cook dinner one or twice for everyone who wants eat with me; it helps to reduce meal costs and I get to enjoy your company. You are welcome to use the kitchen to make your own meals, sandwitches, or snacks.

To register, please just use the paypal button, below.

The deadline for signing up and everyone paying their share is 30 April.

If there are any questions or comments, please let me know.

Welcome to the Fire Gathering of the Pacific Nortwest Gathering of Dark Magi!

I am organising a performance night, a sort of psychic fair affair, for the Saturday night I called "Twilight Disturbances". This is a chance to exercise your performing skills. It is a private and free event to attendees; mostly the Happy House owner and her friends, but if you know people who might like to attend feel free to pass this information on: https://www.eventbrite.com/e/twilight-disturbances-tickets-33864598927 I am still making tweaks to the event post, sorry for the dust. If you would like to perform, please bring something prepared. We will do some blocking and rehearsing on Saturday in the daytime. I want to thank Leland for creating the wonderful flyer, enclosed. Use it!
---

Contact: Rav Yitzhak at Yitzhak [at] ravyitzhak.com.